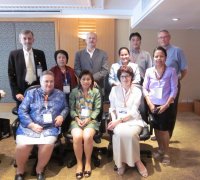 We landed in Thailand – the land, which had been tantalizing me for many years and was promising me something new now. I was going to Thailand TESOL's 32nd Annual International Conference (January 27-28, 2012) in Bangkok. I was "dwelling in possibilities", as my beloved Emily Dickinson wrote.
In spite of the floods in Bangkok last year that had a devastating impact on many of their schools, teachers, and students, the committee succeeded in overcoming myriad difficulties and organized everything perfectly.
The Imperial Queen's Park Hotel where we stayed all those days was located not far away from the centre of the town. The most pleasant thing about it was that the conference was held right there, in a multi-storey building that provided all we needed: meeting space and excellent technology to work fruitfully; swimming pools, delicious food, and a beautiful park nearby to get pleasure from.
The conference "Teacher Collaboration: Shaping the Classroom of the Future" gathered about 600 guests from Malaysia, Korea, China, Japan, Indonesia, the Philippines, Singapore, and from different parts of Thailand. Thai TESOL has six affiliates located in Chiang Mai, Khon Kaen, Rio-et, Nakhon Si Thammarat, Naradhiwas and Kanchanaburu. All of them together have been doing a great job. This not very prosperous country knows that the best investment is investment into education. And they do everything possible to provide a brilliant future for their children and for the whole nation.
I was honored to represent FEELTA, so, the aim of my being at the conference was to take part in the PAC Business meeting, announce the theme and the date of our upcoming conference in Vladivostok, persuade colleagues to join us in November, and to present my paper "Climbing the Irregular Verbs Mountain".
As the conference is annual, there were not many plenary speakers. Christine Coombe, TESOL president, opened the conference with the paper "Best Practice in ELT: 10 Traits of a Highly Effective Teacher". She explored the ten characteristics for success in the classroom and in educational institutions. By the way, her Top Three are:
A Calling for the Profession.
Professional Knowledge.
Personal Qualities.
The second plenary speaker was the world renowned Jeremy Harmer, a teacher trainer, a writer, and a brilliant performer. He tried to persuade us that multi-tasking is a myth. He is sure that in order to get a good, teachers should avoid the "too much information" syndrome and focus students' attention on the things that matter. He also gave a workshop on using poetry and music in language teaching.
Another speaker I would like to mention is Rose Senior, a senior honorary research fellow at the University of Western Australia. Her report "Community-building: the Key to Effective Classroom Teaching and Continuing Professional Development" provoked a great interest from the audience. (For those who might be interested in hearing/seeing her speaking in a podcast in the Applied Linguistics zone of the Cambridge University Press website: http://www.cambridge.org/au/elt/teachers/zones/item2325595/Applied-Linguistics/?site_locale=en_AU¤tSubjectID=2325595)
Besides some plenary speeches, there were eleven featured sessions and plenty of interesting presentations at the conference. My teaching experience was enriched with many appealing ideas worth thinking over and using in my practice. When I was listening to the talks I thought that the topics for our discussions would never run out. Now, looking back, I think all of us are not "shaping the classroom of the future", but touching the future. As Christa McAuliffe, an American teacher, said, "I touch the future, I teach".
Tatyana Anikeeva
FEELTA member