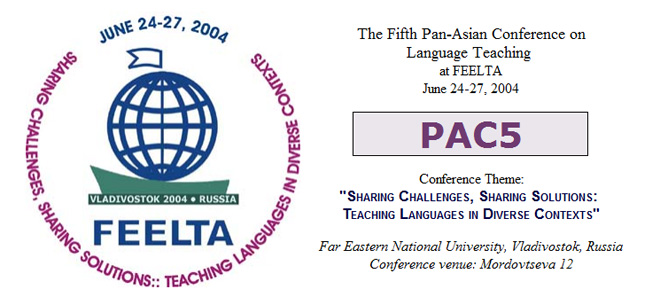 The conference was held at the Far Eastern National University from June 24 to 27, 2004. It was attended by almost 800 teachers from 17 different countries. Conference highlights included:
Over 250 research presentations, workshops, discussions, and poster sessions
Plenary presentations by a galaxy of local, national and international presenters:
   Simon Greenall, UK
   Stephen Krashen, USA
   Maria Lebedko, Vladivostok, Russia
   John McRae, UK & France
   Radislav Milrood, Tambov, Russia
   Denise Murray, Australia
   Larry Smith, USA
   Maria Virbitskaya, Moscow, Russia
Panel Discussions of topics in ELT with panelists from Korea, Japan, Thailand, Taiwan, Singapore and Russia.
A Teaching Materials Exhibition, with representatives of leading international publishers.
The Fourth Asian Youth Forum, which gathered over 100 young people from various countries, for workshops, discussions and social activities.
A full programme of educational and cultural visits.

PAC5: The Sharing
September and October are usually the best and most beautiful months here in Vladivostok . But this year October exceeded everybody's expectations: blue sky, bright sun, bright green water of the sea, colourful foliage on the trees and balmy weather with temperatures around +20 degrees Centigrade. Wherever I see how gorgeous the city and its surroundings are now, I doubt whether our decision to hold FEELTA conferences in June was the right one.
This June, though, the weather, usually misty, cloudy and wet, rewarded us with warm sunshine and a light summer breeze, to welcome 700 English language teachers from different parts of Russia and 16 other countries to FEELTA's fifth conference.
The four days of the conference flew by like a lightning: one short, bright flash, but the build-up to it was four years long. I would like to highlight its milestones along the road to PAC5 at FEELTA2004:
The year 2000, Vladivostok : at the 3rd FEELTA conference we first heard the word PAC . Curiosity was the main feeling we had. Pan Asian Consortium, what was it? Could it be the family of English language teachers we might join to learn more about each other, to learn from each other, and to share with each other?
The year 2001, Japan : we, 6 FEELTA members, attended for the first time the PAC3 conference in Kitakyushu , Japan . After signing bilateral agreements with each of the other associations FEELTA joined PAC as its fifth member.
The year 2001, Vladivostok : FEELTA and the Far Eastern National University agreed to hold PAC5 conference in Vladivostok in the year 2004.
The year 2002, Thailand : FEELTA submitted a bid to host PAC5, the bid was accepted at the PAC business meeting. Disbelief was the feeling we had.
The year 2003, Taiwan : 5 FEELTA members went to the PAC4 conference in Taipei . At the PAC business meeting we were assured that the coming PAC5 conference in Vladivostok was to be a joint effort; we felt the support of the sister associations.
The year 2004, Vladivostok : the PAC5 conference took place. The dream we had dreamt, the dream we had been working for came true!
It was not till June 23rd, the day before the conference opened that I dared to believe the conference would be a success. I will never forget that evening, the eve of the conference, when we had arranged a Welcome to Russia party for overseas guests. Looking back, I see us as a group of hosts awaiting their guests, a folk group Krinitsa , in Russian costumes ready to show our hospitality, and no sign of guests. All of a sudden they started coming: Stephen Krashen with his wife, Kip Cates with a large group of students, John McRae, Simon Greenall, Philip Chan, Bill Balsamo?
The four days of the conference went smoothly: over 200 sessions crowned by 8 brilliant plenaries. There were workshops, discussions, papers, short papers, posters, publishers' displays and a Teaching Activity Fair. Our partner associations had recommended speakers for panels on aspects of language teaching across the whole Pan-Asian region. Tara Rougle at the U.S. consulate in Vladivostok provided financial support to bring 10 teachers from the Russian Far East as well as 2 featured speakers, Dr. Maria Verbitskaya ( Moscow State University ) and Dr. Radislav Millrood ( Tambov State University ). Bridget Gersten at the U.S. Embassy, Moscow subsidised the attendance of Larry Smith and a group of teachers from the U.S. Our friend Dennis Boyle at the American Council for International Education sponsored the attendance of a number of TEA alumni.
All the time, in parallel with the conference, students from across Asia were meeting in a neighbouring building as the 4th Asian Youth Forum. They had a full programme of discussions, excursions, cultural activities, and talks that lasted late into the night and even found the time to make a number of memorable appearances at the main conference venue.
In all these activities, it was so good to meet with old friends and new from across the Russian Far East and beyond. Friendships were renewed, news exchanged, opinions shared. In short, all the excitement and buzz created when people with a common professional interest meet as friends.
I must admit that it was the support of friends, devoted FEELTA members all, that kept me going all through the conference. All the time I felt a strong team working selflessly and enthusiastically. To mention just a few of them: Stephen Ryan, Marina Rassokha, Larisa Krainik, Evgenia Golikova, Tatyana Vlasova, Mariya Churusova, Marina Polyanskaya, Kevin McCaughey, Elena Onoprienko, Katya Bugaeva, Maria Lebedko, Irina Lebedeva, Tatyana Lupachyova, Zoya Proshina, Tatyana Mayevskaya, Olga Sychova, Natalya Maximova, Nelli Serkova, Larisa Belichenko, Valentina Mazur, Svetlana Belyaeva, Ludmila Bondarenko, Elena Koneva, Natalya Borodina. But for them, the conference would not have taken place. On behalf of all conference participants I would like to heartily thank them for work so well done.
Stephen Ryan, living far away from us, was indispensable. The website, conference handbook, conference bags, timely conference updates, etc. were his work. He contributed his experience as a conference attendee and organizer, his knowledge of life in Russia and Japan, his expertise as a member of a number of professional associations, and what is more his time and his heart.
We owe the conference handbook, a great aid for participants at the conference, to Larisa Krainik. Thoroughly and diligently, Larisa worked for a year, collecting all the abstracts, communicating with would-be conference attendees, designing the schedule and the handbook. Good news: at the recent Primorye Book Fair 2004 the conference handbook was awarded a diploma. Congratulations, Larisa ! Visas have always been an issue. The visa process is time-consuming and trying. It is even more troublesome when we think of the number of conference participants who applied for visas: there were over 300 applications. Who could have coped with the flood of faxes, e-mails and letters! Elena Onoprienko did it wonderfully. More than 200 colleagues from Japan, Taiwan, Thailand, Korea, India, China, Australia, the U.S.A., the UK, Singapore, Malaysia, etc. managed to come thanks to Elena's efforts.
To arrange lodging for 300 conference participants was quite a challenge. Guests from other countries who usually book hotels via Internet using their credit cards faced problems as they couldn't
do that in Vladivostok . Marina Polyanskaya met the challenge brilliantly. For half a year she corresponded with conference participants booking hotels for them, meeting their requests.
Kevin McCaughey was always at hand, ready to help with anything. It was he who provided the conference with memorable T-shirts. Those who took part in the Fun Walk enjoyed Kevin's singing at the waterfront.
Knowing that a conference is ideal for socializing and exploring the local area, we developed a rather rich social program, probably even too rich. A team headed by Marina Rassokha did a great job to help conference participants get a taste of Vladivostok . They organized 9 city tours, 2 bay tours, 10 educational visits, 3 parties, and numerous trips to the museums and the Vladivostok Fortress.
Not a single conference activity would have been possible without the material support provided by the Far Eastern National University. If the conference was a success, it was so only because President Vladimir Kurilov and Vice-President Boris Reznik shared FEELTA's dream of hosting the conference and mobilized the university administration to support it wholeheartedly
More than anybody, though, it was the conference participants who made the conference what it was. Without your enthusiasm, your bright ideas and your willingness to share them, all would have been in vain.
Thank you to all who came, from near and far. May our sharing never end!
Galina Lovtsevich
FEELTA President
* Congratulations on a most successful PAC5 conference! FEELTA deserves to be very proud of this milestone event. The evidence of your professionalism and hard work were obvious for all to see and admire. It was, without doubt, one of the best conferences I have ever attended. Thank you for all you did to make my participation so meaningful and beneficial. I am very grateful to have taken part.
Larry E. Smith
USA
* Thank you for a fabulous conference. It was excellent in every respect. I thoroughly enjoyed being in Vladivostok, meeting new (and old) people and sharing in the conference.
Denise E. Murray
Australia
* Congratulations! That was one heck of a conference I have come away with much richer understanding of my colleagues' plights in the Asian region; I have had my first (and certainly not last) taste of wonderful Russia; I made many many new friends and professional contacts; and I had great FUN! Thank you. It was so special.
Phil Chappell
Thailand
* Thank you for an excellent conference. Even though I was only there for two days, I was happy to see a well-organised and well-attended PAC event.
Andrew Finch
Korea
* It was wonderful to meet you and the conference was exceptional. I had a wonderful time and would love to come back again sometimes and teach your students public speaking.
L. Dennis Woolbright
Japan

The conference was hosted by:
The Far Eastern English Language Teachers' Association (FEELTA), Russian Far East with the cooperation of the Far Eastern National University (FENU)and the participation of: Thailand Teachers of English to Speakers of Other Languages (ThaiTESOL), Korea Teachers of English to Speakers of Other Languages (Korea), Japan Association for Language Teaching (JALT), and English Teachers' Association in Taiwan (ETA-ROC)
Conference Proceedings will be available in 2005.
About the Pan-Asian Conferences:
The Pan-Asian Conferences are organised by a group of language teaching associations in East Asia, in order to create a forum for language teachers from throughout the region to explore matters of mutual professional interest. The first Pan-Asian language teaching conference (PAC1) was held in Bangkok, Thailand in January, 1997, with the participation of teachers from KOTESOL, JALT and ThaiTESOL. Since then the group has grown to include ETA-ROC, FEELTA and ELLTAS (Singapore) and has supported four more conferences: PAC2 in Seoul, Korea in 1999; PAC3 in Kita-kyushu, Japan in 2001, PAC4 in Taipei, Taiwan in 2002 and PAC5 in Vladivostok, Russia in 2004. The group has also supported a research journal and encourages collaboration among teachers in the various countries represented.