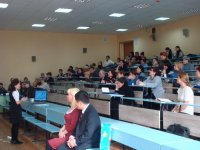 What can connect people from Primorsky and Khabarovsky krai, Moscow and Australia? The answer is simple: the Winter School at FEELTA – a heartwarming event in a frosty winter.
About 100 participants from both universities and schools took part in 13 fascinating presentations devoted to a wide range of English language teaching methodology issues. First of all, they were warmly welcomed by Day Kim, Public Affairs Officer, US Consulate General in Vladivostok, Anna Khamatova, Deputy Director of the School of Regional and International Studies, FEFU, Galina Lovtsevich, FEELTA President and Lev Ryazanov from the "Eastern Center of Foreign Books".
The audience was overwhelmed by the enthusiasm of Irina Temnova from Moscow (Prosveshchenie Publishers). She made four wonderful presentations about new textbooks teachers can use with students of all levels.
Victorya Zavyalova talked about EFL Listening Comprehension Teaching and Research Practices. The speaker also reported the findings of interlanguage phonology research, emphasizing the advantages of bringing speech samples of World Englishes into the EFL classroom to build up learners' perceptive competence, and, thus, exposing students to real English.
Testing has always been a crucial part of teaching. Elena Onoprienko focused on cornerstones of test development and techniques. Authentic tests were presented as material for analysis to highlight the challenges and possible solutions.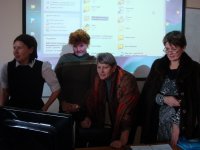 Natalia Proshyants touched upon the topical issue of learner autonomy in ESP. The interrelationship between learner autonomy, cognitive abilities and information technology were considered. She drew on her experience of teaching language and culture in the context of professional communication.
Tatyana Khreshchenko shared her experience as an English teacher and a psychologist in helping school students to overcome examination stress.
Olga Nikolaeva gave a very informative talk on the New Zealand variant of English as a reflection of the New Zealand multi-linguaculture.
The problems of our closest neighbors in the Asian Pacific region were touched on in a lecture by Alexander Golikov from a historical perspective. The participants unanimously expressed their wish to listen to more presentations from this field next year.
Svetlana Semenovykh has presented several times at FEELTA Winter Schools, always with great success. This year was not an exception: Svetlana's presentations on "Listening, Vocabulary and Digital Resources" and "To Motivate by Collaborating: International Projects for Schools" attracted much attention from the audience. Also, Svetlana contributes a lot of interesting materials to the FEELTA Facebook page.
Our Winter School can also boast holding such types of presentation as a "Share Fair" where many teachers can share activities they consider effective in the classroom. This time Yulia Polshina, Elena Koneva and Anna Rusnak showed their mini-lessons which were a great success with their colleagues. We do hope that next year more of you will present at this event!
Of course, the FEELTA Winter School wouldn't be a Winter School without friendly talks during coffee-breaks, a Book Raffle and our old and new friends. You are welcome next year to participate, to share and to enjoy true professional communication!
Tatyana Lupachova
Winter School organiser